I recently had the opportunity to host a fireside chat with Jordi Sangil, Global Head of Performance Analytics, MetLife, at the Brand Innovators Future of AI & Personalization Summit in NYC. The event's purpose was to bring together global marketing leaders to discuss how AI and machine learning are helping brand marketers target and connect with their audience more effectively to support brand-side marketers and their teams.
There were a series of sessions throughout the day, with engaging speakers, such as Kate Brady, Head of Media Innovation and Partnership Development, PepsiCo North America, PepsiCo, moderated by Stephen Klein, CMO, RAD AI, kicking off. Katy is responsible for developing and implementing integrated marketing communications strategies across PepsiCo's US Beverage portfolio with the goal of best connecting PepsiCo's brands with consumers.
The day closed on Personalization at Scale with Epiphany Collective, led by the leadership team at Epiphany Collective. The day was engaging and entertaining, and I wanted to share some of the insights shared during a co-branded session between MetLife and BERA on the importance of AI and personalization and how brand marketers can leverage predictive analytics to chart their courses to better business outcomes.
The importance of AI & Personalization for brand marketers
Jordi Sangil, Global Head Performance Analytics, MetLife, and I took the stage to discuss how Jordi and team are leveraging data into actionable insights in a post-pandemic world. In addition, Jordi shared his experience of changing consumer preferences, revealing how personalization and customization are no longer merely desirable in the marketing function but an essential component of success.
Jordi noted that "Customers want products that can change and flex throughout the changing needs because the pandemic has demonstrated that, you know, things can change… they want a seamless and ongoing interaction, whether it is a high-touch human interaction or whether it is self-service – a digital interaction – customers want to decide when and how they interact."
This is a massive opportunity for organizations to readily meet customer needs on their terms and leverage technology to build seamless experiences. From WhatsApp to WeChat in China to Kakaotalk in Korea, Jordi also emphasized that these apps were considered experimental before the pandemic and have now become a vital and expected part of marketing. These technological advancements tether their ability to target and connect with customers.
Personalization is trending in brand management
While some marketers may evangelize personalization, Jordi challenges the statement that great personalization drives greater relevance. Successful personalization assumes that marketers have excellent data. Unfortunately, many personalization initiatives are based on third-party providers, who may have questionable data. This is good to know if you are stepping into AI and personalization.
A more realistic way to approach the situation is to look at the data with a human eye and look for trends among customer engagement metrics, KPIs, and other digital behaviors. If you want to understand how your customers truly feel, you're not going to find that in a database. While data is the challenge, there is a vast opportunity therein where organizations can now predict the attitude and emotions of consumers to get a competitive advantage.
Take BERA as a prime example. The BERA Score enables brand marketers to look beyond the data and see what consumers feel. By understanding their personality and desires, brands become more malleable and better able to address their needs in the language and emotions they communicate.
An example of this happening in real-time would be the recent Netflix subscriber losses, where Netflix saw a 1-point change in their BERA score which measures how their consumers feel about the brand (read here to see what attribute changed). By accessing this data and understanding the consumer sentiment, Netflix leaders can address their brand messaging and reconnect with consumers to rechart (of course, this is only if they choose to do so).
What are the tactics for successful personalization?
According to Jordi, the key to success is experimentation. In personalization, like any other marketing tactic, you are subject to pilot and test. Jordi described how, recently, at MetLife, they tried to test a churn propensity model to predict the probability of a customer churning, and the results were surprising. They took select agents from lines of business and had them call a list of high propensity customers for a month to churn. Then, they used a control group of agents that would call to make their retention efforts.
After a month, what MetLife discovered is that the results were significantly higher and better than in the case of the usage of personalized lists and hyper propensity lists; so, the metrics and the results of this pilot to build a more significant business case so that we could operationalize in the larger contact center, in that particular line of business and the results right now in terms of business outcomes is, are, to be blunt, amazing.
Their success was getting leadership on board and collaborating with cross-functional stakeholders. This enabled MetLife to align its business outcomes with appropriate testing. Marketing has a responsibility to implement agile methodologies. You must continuously loop and feed those models and those in intelligence to align goals.
Improving customer relationships with AI
Another area Jordi and I dig into is customer relationships. Again, personalization is a fundamental enabler; organizations can now predict consumer behavior and sentiments and act before the customer even suspects it to mitigate risk or rechart a brand course back to trajectory. In addition, brands have an opportunity to roll with technology by merging research data with customer data to predict the belonging of a specific segment.
So, for example, if you can plot how much risk someone is willing to take based on proxy variables in a database, you could initiate campaigns that align with their perceived risk level to meet them in their comfort zone. Or, if you see someone is willing to take a higher risk, you can personalize an experience for them and offer value in other ways. Technology is already so advanced that we can predict the lifecycle of a customer.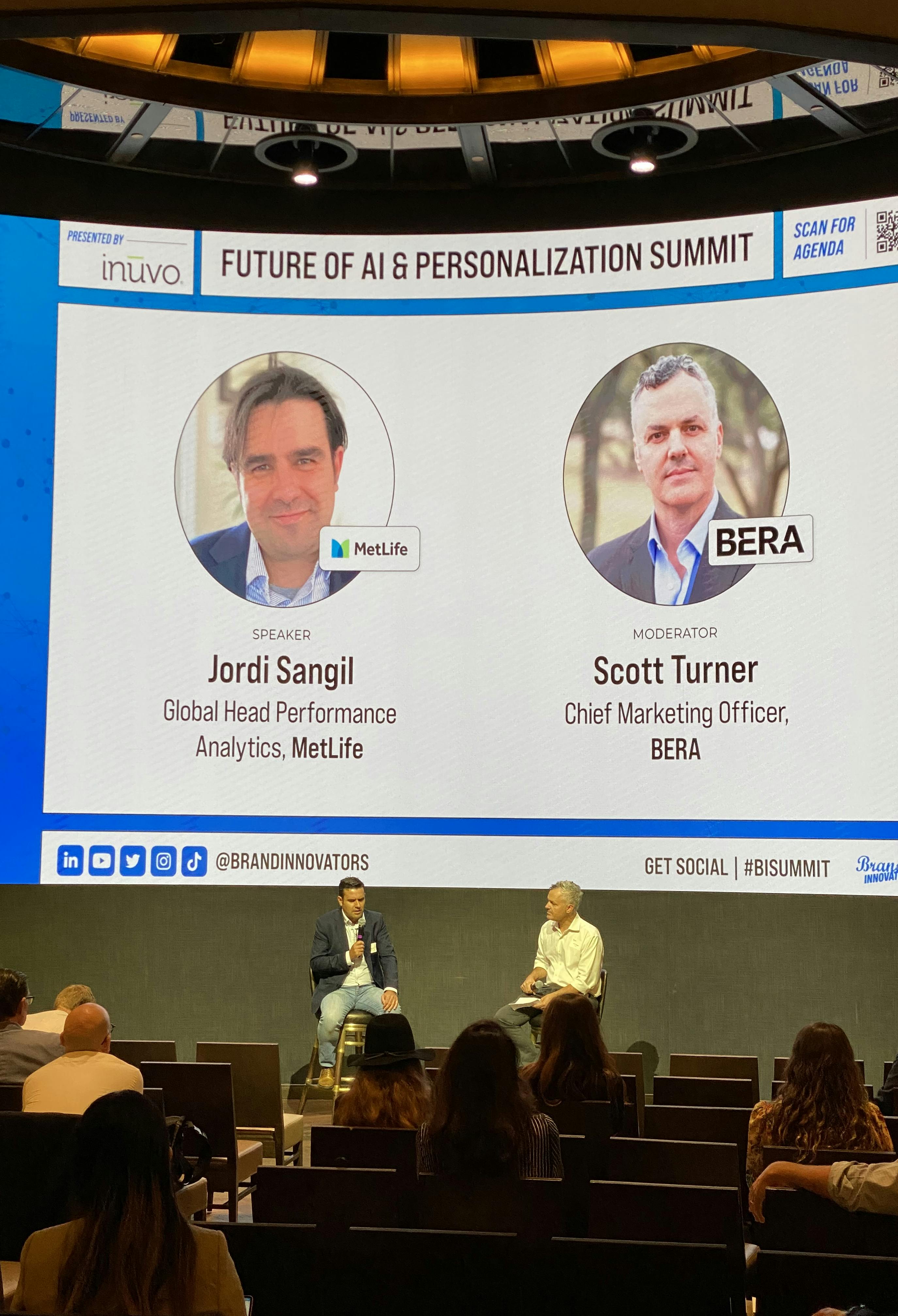 Apple does this with their watch; they collect data from the user, eating habits, and exercise habits; you can even take a picture of your meal, and the system will recognize what meal it is and learn from you. After AI is applied to the data, the platform provides you meaningful and personalized advice on nutrition plans, exercise plans, health tips, and so on to meet the user in their stages of self-improvement.
In the banking world, we see a similar approach in using chips. In Dubai, Jordi recants, "It was regulated in a way that every year a customer needs to present to the bank their latest, national ID that has a chip in it, and the customer needs to go and, and insert that chip, or put that chip into the app. That chip contains about 50 data points. So imagine the amount of information we have from customers; that's where you can start crafting offers and being personal to them."
CMO takeaway
If there was only one thing to take away from the event, it's that people harness the power of technology; if brands want to succeed in this post-pandemic world, having access to AI and predictive analytics can only support their organization, but it's the humans behind the data that can truly illuminate the path forward. When you empower your brand managers with emotional data points, it changes the conversations completely.
You meet customers in their language and natural habitat and have genuine conversations that facilitate building meaningful relationships. You can pre-empt when conversations may go off track and take preventative action, even in today's changing landscape. The world's most influential brands are using platforms such as BERA to gain previously unknown insights into their customers and benefits in real-time–no more waiting for out-of-date data.
As you go forward, consider how your customers feel and how you want your brand to be perceived. Then, execute strategies backed by predictive analytics to get the most out of your marketing efforts and budget. If you're unsure where to start, my guide for CMOs on maximizing your return on brand investment calls out more actionable insights brand leaders can use today.
To learn more about how consumers feel, request a free brand assessment. You can also watch the session on-demand by requesting a copy here.
About Brand Innovators
Established in 2011, the Brand Innovators community includes over 25,000 senior brand marketers from Fortune 500 and other leading brands from coast-to-coast, making it the largest professional network of its kind. The Brand Innovators Advisory Board and Professional Councils include some of the most innovative brand marketers or change agents in the marketing and media industries today. Brand Innovators events are also an important marketplace for Fortune 500 and other leading brands to connect with and learn from over 200 "best-of-breed" publishers, enabling technology companies, agencies and other innovative folks.
About the author
Scott Turner, Chief Marketing Officer at BERA
A methodical optimist who believes that great marketing is a potent combination of persuasion and math, Scott Turner is an enterprise software growth marketing leader. Scott leads DevOps and AI, marketing teams, to rapidly develop and execute aggressive brand and demand generation goals. He has international (the US and Israel) board-facing experience reporting progress on brand awareness, pipeline growth, global expansion, new product, brand launches, M&A integration, team staffing and training, go-to-market plans, and budgets.