Netflix – whose name is almost at a verb status – was the fastest growing American brand of 2019¹, but today, the brand faces ongoing criticism from consumers voicing their concerns on social media over how the platform is failing to meet their expectations; from failing to renew popular series to reversing their position on shared passwords, and now, just this week, news of 150 US-based layoffs, Netflix is feeling the heat.
By their admission, the news that Netflix is letting go of 150 US-based employees is due to a declining subscriber count. Netflix said the job losses were due to a slump in the company's revenue and that they have been battling an exodus of viewers this year for some time. This follows an announcement in April when Netflix revealed they had lost 200,000 subscribers and were projecting a further 2 million losses in the coming quarter.
To see how Netflix is reacting to these challenges, let's take a look at their BERA Score and see how it's impacting their brand equity in near-real-time.
Netflix brand positioning
Brand positioning describes how a brand is different from its competitors and where, or how, it sits in consumers' minds. A brand positioning strategy involves creating brand associations in consumers' minds to make them perceive the brand in a specific way. However, much like a relationship, feelings change – for better or worse – and brands must stay on top of consumer sentiment if they want to remain relevant.
Netflix, which defines itself as the world's leading streaming entertainment service, saw domestic paid memberships trend upwards from 2016 through 2019. No one else was providing a similar service, and they quickly attained household status as the "cool kid on the block." So, as more streaming options became available, Netflix had to work harder to retain and grow its subscriber base.
Brands such as YouTube, Disney, HBO, and Hulu, have all launched streaming services; and each aims to position itself in front of Netflix consumers. For example, Disney promises an escape from everyday life to a magical world full of unique characters, where dreams come true and where there are only happy endings. Likewise, YouTube positions itself on three levels: as a service for uploading, sharing, and watching created videos, as a content distribution platform for content creators and advertisers, and as a forum for people "to connect, inform, and inspire others."
For Netflix to retain its household status and subscriber trend, the brand has to be strategic and proactive in listening to and responding to consumer needs. Netflix's essence statement: Escape from reality was a powerful driver when there were no other options. However, with competitor brands now offering to distract and delight viewers, Netflix is forced to shift.
How recent announcements have hurt Netflix's brand reputation and equity
Following the decision to lay off 150 US-based employees, Netflix faces a media storm with 8,460,000 results. Open any social media platform, and it's hard to avoid the news. Netflix is trending on Twitter as employees share emotional experiences and requests for new employment. The narrative is around how brands handle these executive decisions on LinkedIn, and magazines and newspapers are summoning headlines.
You'd be hard pressed to miss the news:
CNBC ran with, "Netflix lays off 150 employees as the streaming service contends with big subscriber losses²."
L.A. Times threw another dagger, "Netflix cuts 150 jobs after subscriber slump, revenue slowdown³."
Finally, NY Times incited public discourse with, "Netflix is proof Americans have had enough of woke speech policing⁴."
CNBC analysts have been following the subscriber decline, noting that staff reductions, which were expected, come less than a month after Netflix reported its first subscriber loss in a decade and forecasted future losses in the next quarter. As a result, shares of the company have been down nearly 70% since January.
"As we explained on earnings, our slowing revenue growth means we also have to slow our cost growth as a company," a representative from the company told CNBC. "So sadly, we are letting around 150 employees go today, mostly US-based. These changes are primarily driven by business needs rather than individual performance, making them tough as none of us want to say goodbye to such great colleagues. We're working hard to support them through this challenging transition."
The LA Times took a more personal approach, noting how Netflix had been ramping up its staff during the pandemic, as consumers joined the streaming service in droves as they sought ways to entertain themselves at home. As of December, Netflix had about 11,300 full-time employees, and the cuts represent about 1% of its global workforce. In addition, almost half of the staff are in L.A., so the layoffs felt closer to home.
And it's not just U.S. publications picking up the news; the BBC added to the global narrative by stating, "Netflix cuts 150 US-based jobs after losing subscribers⁵." The BBC also mentioned that the streaming service lost over 700,000 subscribers after pulling out of the Russian market and included employee Tweets about job loss, adding, "Netflix has run out of easy ways to grow the business."
But what does this mean for brand equity? Let's take a look.
Current Netflix brand analysis
If we look at the BERA Score, a measurement that predicts your brand's impact on your brand equity, Netflix lost 1-point in 2 key areas: Uniqueness and Regard (with the most significant being in Uniqueness). As the name implies, Uniqueness is how unique the service or product is, with more Uniqueness being more coveted; therefore, even a 1-point decline can signal millions of dollars in lost revenue and customers; both of which may take months or years, if ever, to regain.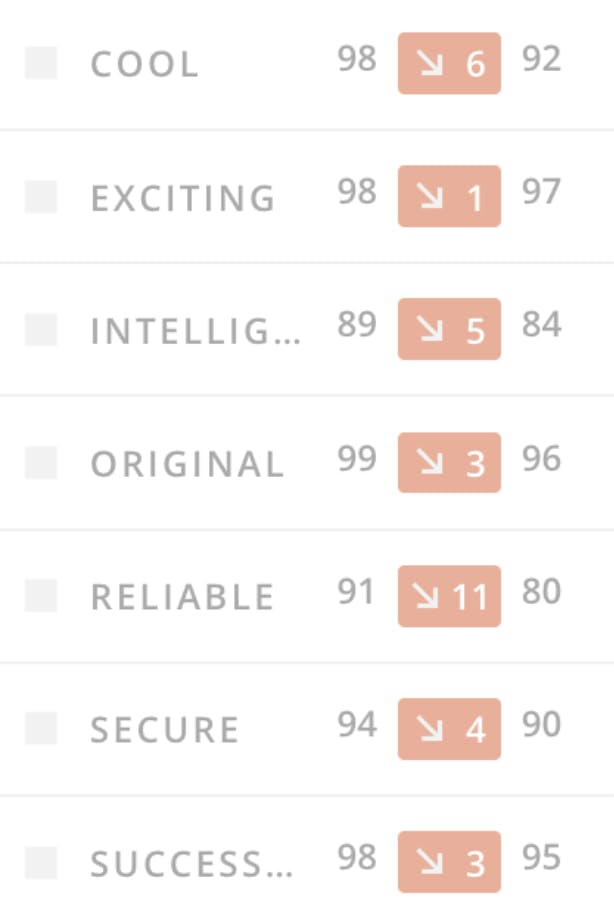 Source: BERA
This also translates into a significant shift in the ratio of loyal to non-loyal consumers within the customer group: at BERA, we see that loyals have decreased. In contrast, switchers (those who use the brand but prefer another) have increased. This is important to note as while subscribers continue to grow and may appear to signal growth, the overall quality of the customer base has declined, indicating a higher risk of churn.
For Netflix or other brands experiencing a similar situation, how you choose to react could make or break the brand. Brand marketers who think, "Oh, the subscribers are increasing, so we're ok," will not plan for the future. In contrast, those who consider reactive ways to improve customer affection and increase Brand Love can expect to see their brand equity improve with time.
Think of it like the Titanic, yes there's an iceberg ahead, but if the foundation of the ship is not built to withstand the impact, and there are not enough lifeboats, there is little chance of brand survival; brand marketers can rechart its course when they have insightful analytics that shows almost real-time consumer sentiments. Knowledge is power, and the BERA Score is uniquely positioned to add texture and depth to trending data.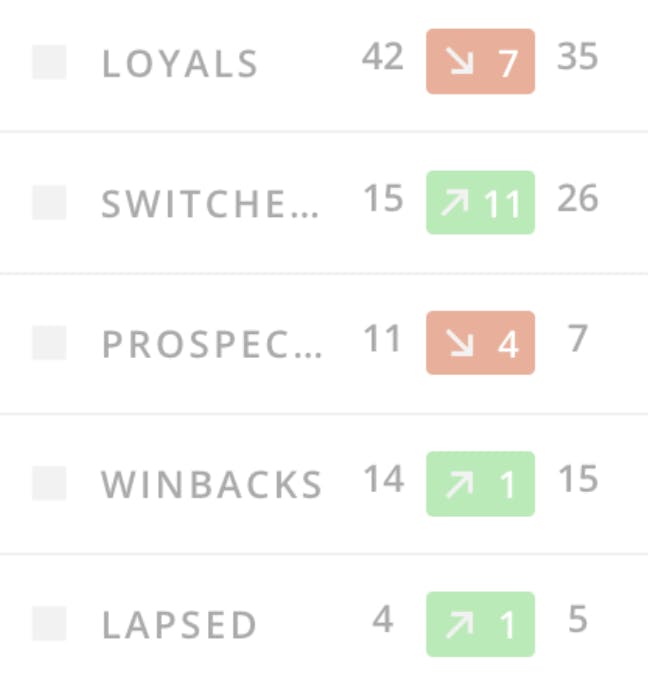 Source: BERA
If we wanted to go one step further, we could also see the attributes of consumers on an intimate level to see how they feel about a brand. For example, in the case of Netflix, two characteristics driving brand equity are perceived as being reliable and cool. These are just two attributes of a brand's positioning that BERA tracks and factors into its BERA Score and can help marketers understand their brand beyond numbers.
So let's take a look at these attributes in more detail and see what they reveal.
Impact of "Reliable" on Netflix brand equity
When we talk about how reliable a brand is, we're talking about how people notice and come to rely on that brand over another, less reliable option. This is a significant attribute for Netflix as new streaming services are launching all the time, and other providers are hoping to steal their market share (and can do so if they are perceived as being more reliable). Netflix, could, until now, assume consumers will pick their service because there simply were none.
Being reliable also means a consumer knows what they see is what they get every time. There are no tricks, just a trustworthy brand that shows up when you need them and stands by whatever claims they make. For example, when Netflix retracted its sentiments on users sharing access, we saw this attribute change, as consumers felt disconnected from the brand. If they want to regain this sentiment, they need to establish trust in their brand and show consumers how they are reliable and consistent in their messaging and actions.
Reliable brands demonstrate commitment and willingness to go above and beyond for their customers, time after time. They're trustworthy and there for you when you need them. Reliable brands walk the walk and fulfill the claims they make and spend time making themselves dependable. If there is a problem, they address it quickly and always provide a great experience during the process; Netflix can use these pillars to repair their reliability rating.
The impact of "Cool" on Netflix brand equity
Similarly, when we talk about how cool a brand is, we mean how popular and in-demand the product, service, or celebrity is to the general population. Cool brands have a certain star appeal or je ne sais quoi; brands like Apple and Instagram remain timeless and cool, whereas brands that fall off the cool rating, like MySpace, become lackluster, which drives down brand equity. In some cases, the brand may cease to exist.
Cool may sound like an arbitrary attribute, but we can further break it down into ten sentiments that brands can track: consumers perceive cool brands to be extraordinary, aesthetically appealing, energetic, high status, rebellious, original, authentic, subcultural, iconic, and popular (although brands don't have to be all the characteristics, all the time).
Brands that are perceived as cool reap rewards to self-brand connections, Brand Love, brand familiarity, brand attitude, word-of-mouth, willingness to pay, and other variables. Interestingly, you don't always have to be nice to be cool; being edgy can win the hearts of passionate and opinionated consumers if handled correctly – and brands who so do become magnetic.
Netflix recently updated its company culture guidelines for the first time since 2017 to include an "artistic expression" section that warns employees they may be required to work on content that's counter to their personal values. "Not everyone will like — or agree with — everything on our service," the memo says. "We let viewers decide what's appropriate for them, versus having Netflix censor specific artists or voices."
This statement can help build coolness and enable Netflix to become a leader in desirable places to work; on the other hand, if the messaging is not perceived as cool, we'll see how employees and consumers may choose to disengage, which can influence employee retention rates and impact brand equity.
Loyals and Switchers and the impact on Netflix brand equity
Earlier, we mentioned that Netflix experienced a significant shift in the ratio of loyal to non-loyal consumers within the customer group. Of the non-customer group, the % of prospects (i.e., those who have never tried the brand but are open to trying it) has gone down, meaning that net new acquisition efforts and programming aren't connecting as well as they did in the past.
While the number of former users has gone up (see winbacks and loyals), a higher percentage of loyal consumers who used to use the brand but don't anymore demonstrates that the quality of their customer base has gone down. This signals a possible negative impact on brand equity as renewals would directly impact a subscription service.
BERA Scores and brand equity
The good news is that while Netflix experienced a 1-point decline, with access to our always-on predictive analytics, their brand management team can make proactive choices to regain these advantages and use this as an opportunity to learn more about their consumer's needs. And if we look at the data, that is precisely what we see happening.
Since 2016, Netflix has steadily increased its BERA Score, demonstrating a strong, positive, and statistically significant correlation to Netflix subscribers over time. Sure, there are times when they may lose a point or 2, but ultimately, over time, we see their brand going from strength to strength, resulting in more sales and subscribers. They better understand how the consumers feel about their service and can navigate changes in brand positioning with more confidence and risk mitigation.
Sure, it will take time to learn from these mistakes, but it is possible to win back customers and favor. This example, however, signals a more significant message to marketers; brands can no longer afford to be complacent about their brand equity; even small changes in sentiment can impact millions of dollars in revenue. How accurate your data is and how responsive a brand strategy is towards these trends can make or break brands.
For the marketing leaders who want to maximize their return on brand investment, Predictive Brand Technology can act as a crystal ball to illuminate the future so you can make impactful, real-time decisions and avoid the perils of falling out of favor among consumers. Especially in cases where the writing is on the wall.
BERA SVP of Product Marketing, Jessica Baum, sat down with Jim Stengel, ex-CMO of Procter and Gamble and five leading marketers responsible for growing some of the most influential brands to ask how they're leveraging brand equity to drive significant business impact. Watch the webinar on-demand.
About the Author
Ryan Johnson, Senior Director of Sales at BERA
Ryan is Senior Director of Sales at BERA, where he leads media & entertainment, retail, QSR, and agency partnerships. Ryan has spent more than a decade working in brand strategy, insights, and customer loyalty advising Fortune 100 companies during his tenure at leading agencies such as VMLY&R's BAV Group, Epsilon, and Alliance Data Systems. He has led thought leadership studies on topics such as the Future of Customer Service and its changing relationship with technology, the annual Best Countries study (published in partnership with U.S. News and the Wharton School of Business), and has guest lectured at Fordham and Columbia Business Schools. He holds a B.A. from the George Washington University and an M.B.A. from the Fordham Gabelli School of Business.