One for all and all for one; inclusive brands are the rallying cry for a welcoming world where any and everyone feels included and valued. Inclusive brands celebrate what makes us unique and special and gladly accommodate consumers with a myriad of options not commonly found in the marketplace.
This is part 2 in the BERA Attributes series; read part 1 on How to create a brand that resonates with today's consumers and feels authentic and real here.
Being inclusive is no longer the sole responsibility of HR; people are responsible for making their peers, customers, employees, and everyone in between, feel welcome and valued, and sharing the desire to become more inclusive and accepting of different viewpoints can lead brand marketers down thoughtful and impactful avenues of exploration. From websites and messaging to building creative teams, inclusivity touches every aspect of the brand. 
In the wise words of Catherine Pulsifer, "We are all different, which is great because we are all unique. Without diversity, life would be very boring." So, consider this key attribute if you're looking to maximize your brand in innovative and progressive ways and be more people-centric.
How to build brand inclusivity
Brand inclusivity is about unifying your business and all of your customers under the shared values and mission statement that make your company unique. In a globally connected, multicultural, and multi-ethnic world, you want to ensure that your brand celebrates and recognizes people of all backgrounds and orientations. 
Brand inclusion is seen in companies that share an ethical responsibility to welcome all consumers and the myriad of world views and perspectives they represent. It's vital because inclusive branding and marketing have become an expectation in today's market. We no longer live in the dark ages; consumers are savvy, opinionated, and want to align with your values and mission.  
A recent Microsoft study showed that 59 percent of consumers are more trusting of brands when they see themselves represented in their ads, and this number jumps to 61 percent for women and 67 percent for ethnic minorities. As a result, more and more consumers want to feel like they and other members of society are represented and welcomed by businesses. This desire can influence where they shop and what brands they choose. 
Below we'll look at why brand inclusion is essential and how to build a brand inclusivity strategy that represents all of your customers. 
What is brand inclusivity?
Inclusive brands accept people regardless of race, education, belief system, gender, nationality, or any other orientation. They focus on the beauty of diversity from the many perspectives and backgrounds that make up the collective human spirit. A truly inclusive brand celebrates these differences and finds creative and compelling ways to bring those differences together so that the person feels valued. 
Many brands focus on Diversity, Equity, and Inclusion (DEI) and actively find ways to increase accessibility and inclusivity at every corner, so much so that Chief People Officer is the fastest growing job role today. Brands understand that if they want to source top talent, they must foster the beliefs and values of an inclusive brand to attract innovative and creative talent. And, they must manage these considerations responsibly and thoughtfully.   
Becky Schnauffer, Senior Director at LinkedIn, said: "This list highlights how business priorities are changing and the C-suite leaders needed most to help companies adapt to and thrive in a new world of work. CHROs and Chief People Officers have demonstrated a highly strategic role in businesses over the past 19 months, and their impact has been clear. So it's positive to see them elevated to the top of this list as companies bolster hiring of these leaders to help their businesses introduce new ways of working and transform culture and behaviors as they define the future of work."
But inclusivity goes beyond hiring; so how do you make a brand inclusive, and what can you do today to invest other stakeholders in your mission? 
How do you make a brand inclusive?
Brand inclusivity is about challenging the status quo, but there are many ways a brand can do this in a way that feels authentic. One of many avenues is finding creative and innovative ways to represent and empower people through their unique stores and backgrounds. 
Yes, you could (and should) choose to hire employees from a diverse range of backgrounds, ages, and experiences and focus on DEI to source top talent. Or participate in your brand's inclusive mindset by celebrating or acknowledging holidays focused on marginalized people, the LGBTQ community, and other diverse groups. Still, there is so much more we can do.  
Create a robust brand inclusivity strategy in the following ways:
Engage your diverse team to represent better the wide array of customers you're serving. 
Listen to your employees, customers, and the general public to understand what they value and want to see from a trusted brand. 
Offer customer and employee surveys that help you gain insights into what customers from different backgrounds want.
Pay attention to customer reviews and feedback.
Follow pertinent social issues and ensure your marketing team actively engages in the cultural climate to understand what issues matter most. 
Integrate diverse branding into your content, including messaging, visual representation, product user experience, accessibility, and availability of your products/services. 
Review product experience to ensure it is a seamless and enjoyable experience for all customers. 
Inclusivity also shines in the daily management of a brand. For example, consider the language you use in meetings and how you address people; do you use phrases out of habit? Language should be universally accessible; are you providing tactile ways for people to engage with your content in different mediums, such as braille or subtitling videos, or do you unconsciously use stuffy language or acronyms that marginalize the audience? 
Some questions to consider: Do you value one person's feedback more than another, and why? Do you routinely ask people for input and not others? Do you hire people by ability or perceptions of their age? By digging deep, you illuminate areas where you can make incremental changes towards a more inclusive brand by leading the example of change.  
Why is brand inclusivity important?
You may be wondering where all this soul-searching is leading your brand towards your revenue goals, and we're getting there now. Now more than ever, consumers care about where and how they spend their hard-earned money. Consumers want to support brands that align with their values, and they will spend more for ethically driven brands and wear their beliefs and principles on their sleeves. 
Here are some of the most revealing statistics about why brand inclusivity is essential for your image, sales, customer loyalty, and more. 
Diverse ads are more memorable: in 4,000 Facebook brand lift simulations, diverse representation for ad recall lift was the winning strategy 90% of the time.
Younger generations want inclusivity: 70 percent of Millennials are more likely to choose a brand if it exhibits inclusivity and diversity in its promotions. 
Multiculturalism is growing: Nearly 40 percent of consumers come from multicultural backgrounds.  
Companies that value diversity drive more sales: A Linkedin/Forrester study showed that sales organizations with DEI sales practices had nearly 15 percent more sales than lagging DEI teams. 
Consumers will be more loyal: This Deloitte study found that 57 percent of consumers are more loyal to brands committed to addressing social inequities. 
However, consumers also want brands who are authentic in how they approach DEI; consumers are susceptible to the plague of brands who run vanity promotions to tap into this market inauthentically, and so if you are considering becoming a brand of value, you must be genuine in your intentions and the consumer's interactions if you want to succeed. 
Go behind the brand with Brand Innovators X BERA X Moët Hennessy. During an afternoon session with future-thinking marketing leaders, Tiara Chesmer-Williams, Head of Inclusion, Diversity & Equity, Aygline Pechdo, VP of Marketing, Anu Rao, VP, Communications, and Emma de Szoeke, SVP of Consumer Insights, Analytics & Business Growth, an all-female leadership panel, focused on how inclusive marketing was not only a desirable but necessary shift for modern brands and driving Moët Hennessy into a more profitable future. 
How can you measure brand inclusivity?
You might wonder how to measure such an abstract concept, but inclusivity is one of 13 purpose attributes or brand metrics BERA tracks. These attributes factor into your brand's BERA Score, and understanding them is vital in leveraging your brand DNA; we can show you how inclusive consumers perceive your brand—no more thinking or guessing.  
BERA's predictive brand technology is powered by the world's largest syndicated brand equity data stream. Our technology automates the real-time collection, analysis, and measurement of 100+ consumer-based metrics across 4,000 global brands and allows you to understand your brand landscape. 
So what are the most inclusive brands?
A great way to learn is to look at other brands that exemplify inclusive values. Between 2016 and 2022, these four brands ranked the highest overall on our BERA Score. Of course, they did exceptionally well across the board.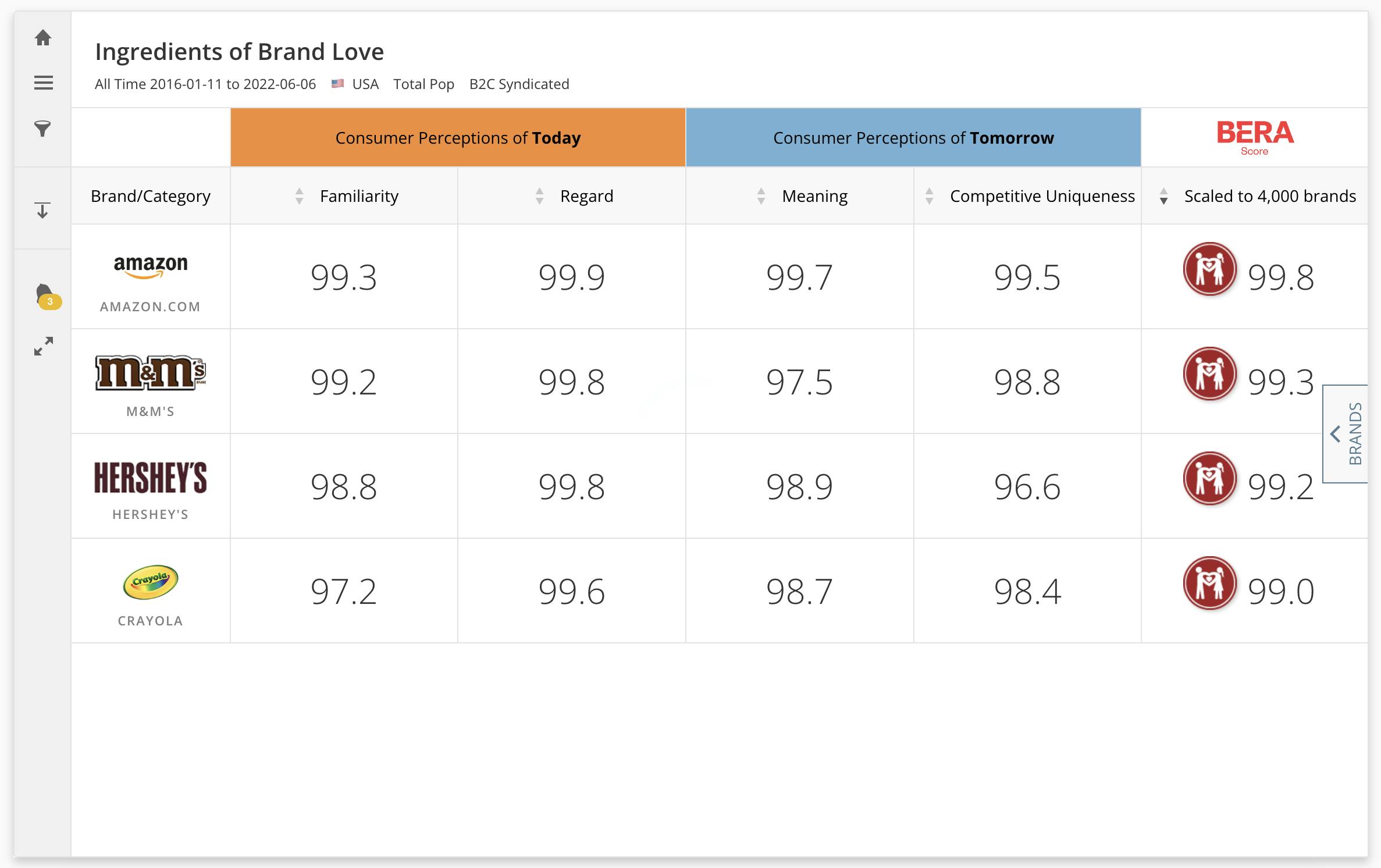 Still, their familiarity and meaning scores show how they've appealed to a variety of customers from across the world, making them more inclusive:
Amazon: 
Familiarity: 99.3
Regard: 99.9
Meaning: 99.7
Competitive Uniqueness: 99.6
Score scaled to 4,000 brands: 99.8
M&M'S:
Familiarity: 99.2
Regard: 99.8
Meaning: 97.5
Competitive Uniqueness: 98.8
Score scaled to 4,000 brands: 99.3
Hershey's:
Familiarity: 98.8
Regard: 99.8
Meaning: 98.9
Competitive Uniqueness: 96.6
Score scaled to 4,000 brands: 99.2
Crayola:
Familiarity: 97.2
Regard: 99.6
Meaning: 98.7
Competitive Uniqueness: 98.4
Score scaled to 4,000 brands: 99.0
The BERA Score can open the door for you to discover which metrics determine your brand's equity, which consumers offer the most significant growth opportunity, and how you can strategically position yourself to make the smartest brand decisions. So be sure to pay attention to the following metrics to measure brand inclusivity. 
BERA metric 1 for brand inclusivity: Social commitment
When your social commitments align with a wide array of customers, you're making a statement about what groups you support and the social causes you care about the most. Whether you highlight certain product functions that accommodate a specific demographic or want to run a charity, aligning yourself with a social cause can be a green light to consumers who also identify with that cause. 
BERA metric 2 for brand inclusivity: Culturally relevant 
Your brand inclusivity strategy must be culturally relevant. Cultures and social values are constantly evolving, and it's essential to stay on top of these changes if you're going to maintain a relevant brand. Victoria's Secret, for example, ditched their Angel Campaign instead of something they saw as more culturally relevant: partnering with a group of inspirational women that included activists, entrepreneurs, athletes, actors, and others. 
BERA metric 3 for brand inclusivity: Beliefs and values
Want to appeal to a new demographic? An excellent place to start is with your beliefs and values. Beliefs and values shape action and behavior. If you align with beliefs or causes, you can expect those belief systems to trickle into your products, marketing campaigns, and customer outreach efforts. 
BERA metric 4 for brand inclusivity: Emotional connection
People feel more connected to products when they share an emotional connection with your brand. Whether focusing on emotional marketing practices or partnering up with an important cause, you can expect customers to be more loyal, committed, and engaged with your brand when they feel an emotional connection to it. 
Building a brand that values inclusion with BERA
If you're ready to take your brand to the next level, you're in the right place. Every day BERA measures 100+ metrics across 4,000+ brands to continuously and comprehensively assess their brand efficacy. BERA can help you understand how your brand inclusivity is working right now and what financial and interpersonal results will come from your branding strategy. 
Inclusive is just one of 13 purpose attributes of a brand's positioning that BERA tracks and factors into a brand's BERA Score. Save this 1-pager to build an inclusive brand.