After months of uncertainty – will events return, won't they – BERAns Henry Tam Jr., SVP, Global Sales and Partnerships, Paul Simmons, Sales Director, and I embarked on our biggest in-person event of 2022, the Brand Innovators Marketing Innovation, during Formula 1. To say there was excitement in the air would be an understatement.
This 3-day marketing event featured some of the world's most influential brands, sharing a wealth of knowledge and insights, united by the common purpose to enable marketing leaders to share their innovations and elevate how global brands position themselves.
But honestly, the thought of being able to sit in a room with people and talk about marketing – like we want to, was news itself.
From intimate fireside chats to compelling panel discussions with heads of industries, each session addressed the marketing conversations of the day, with insights from the top marketers and their teams and partners.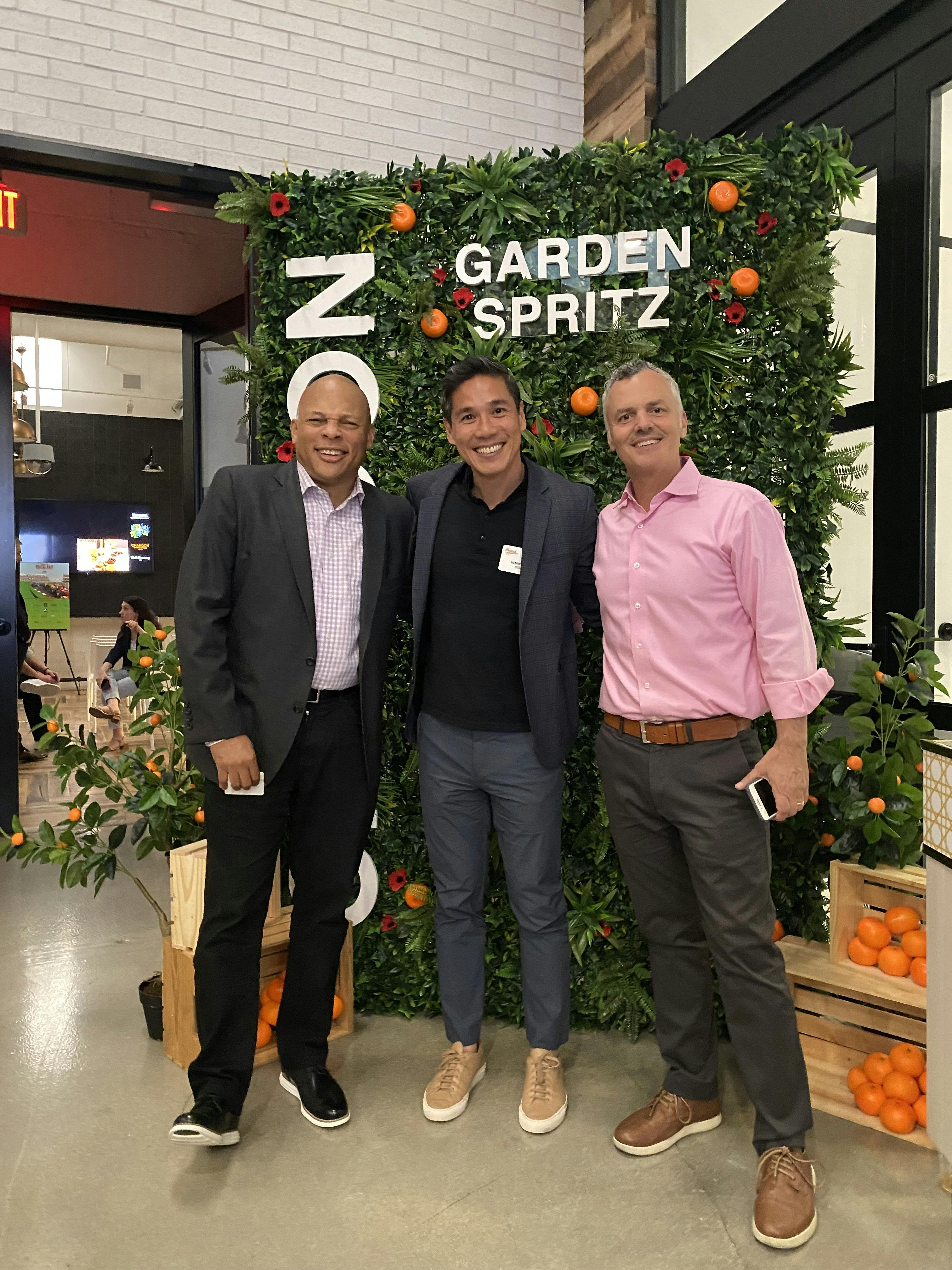 BERAns Henry Tam Jr., SVP, Global Sales and Partnerships, Paul Simmons, Sales Director, and Scott Turner, CMO
Sessions included "Behind the Brand," a series of in-depth looks at global brands, such as PUMA, Mercedes-Benz, and Burger King; each session was more exciting than the last. Many brands focus on the role of data and technology. Others on culture and purpose. It was fantastic to see and hear how RBI is adapting to the post-pandemic landscape or how Uber Freight is navigating the supply chain demands in real time.
Restaurant Brands International (RBI) gave an engaging talk on the state of the food and beverage industry with guests Elmis Medina, Global Senior Director for Brand and Innovation, Popeyes, Jessica Serrano, Director, Marketing Strategy, Burger King, Jean Paul Ciaramella, Media Lead, NA, Popeyes, and later with Matthew Banton, VP of Innovation, Category Management & Sustainability, Americas at Burger King.
Matthew, who characterizes himself as a data nerd, gave an interesting talk highlighting that marketing is a unique mix of art and science. "Don't fall in love with the idea…unless the data confirms it."
And Allison Giorgio, VP of Marketing, PUMA; Andrea Hopelain, SVP Brand, EA SPORTS & Racing; Bette Ann Fialkov, Head of Entertainment & Culture, Hims/Hers; Emily Loewy, Senior Director Global Marketing, Oceania Cruises, Lauren Cochran Gilfarb, Chief Digital Marketing, Miami HEAT; moderated by: Alex LiDonni, VP, Business Development & Brand Consulting, Loaded, gave a conversation around Women in Marketing Leadership. Andrea added the importance of successful CMOs "thinking like data scientists."
Other session highlights included:
A fireside chat on Marketing Lessons from 200mph with Bill Driegert, Co-Founder, Uber Freight, moderated by: Hunter Hindman, CEO, Argonaut.
Mastering the Metaverse, led by Samuel Huber, Founder, and CEO, Admix, Moderated by: Ashley Cartwright, Vice President, Media, The Walt Disney Company.
Innovation as a Constant (Dell Technologies sponsorship leadership team), including Anne Ristau, Amanda Metti, and Eduardo Goyanes, alongside McLaren Racing, gave an in-depth look into leveraging innovation and tying their brands together to better connect with their target audience. "It's a living lab of technology and the ultimate example of teamwork."
I was thrilled to chat face-to-face with the people responsible for some of the most influential brands in the world. One brand caught our attention early on, and I was delighted to announce I'd be moderating a panel with Moët Hennessy.
Behind the Brand with Moët Hennessy
During the afternoon session with future-thinking marketing leaders, Behind the Brand with Moët Hennessy, featuring Tiara Chesmer-Williams, Head of Inclusion, Diversity & Equity, Aygline Pechdo, VP of Marketing, Anu Rao, VP, Communications, and Emma de Szoeke, SVP of Consumer Insights, Analytics & Business Growth, the all-female leadership panel focused on how inclusive marketing was not only a desirable but necessary shift for modern brands.
We were led through an exciting brand history flourishing with female leadership. The panelists demonstrated how Moët Hennessy held itself accountable to cultural initiatives and gave engaging examples of how representation drives innovation in the legacies of their brands, notably when shifting from one consumer perspective to another.
It was clear to all that while you can establish a brand, it's how you nourish it over time that genuinely impacts the ROI and consumer approval ratings.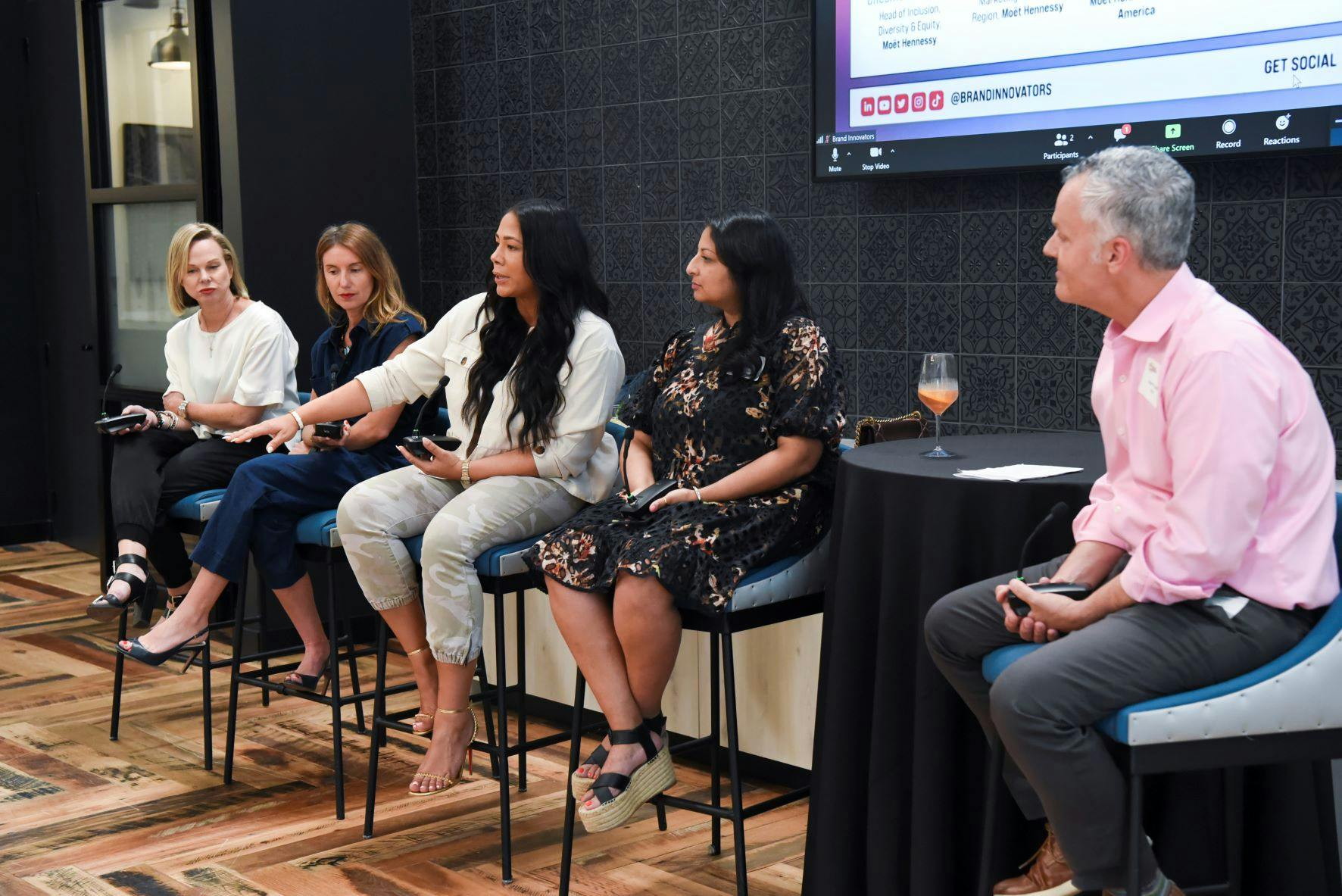 Behind the Brand with Moët Hennessy
A clear theme throughout the event; many brands discussed how brand purpose and culture drove innovation and provided teams with more perspectives and problem-solving abilities. The leadership at Moët Hennessy certainly exemplified these qualities with their passionate and timely discussion.
The panelists provided case studies that demonstrated why their innovative approach to brand marketing was charting the brand on a new and inspired course and how inclusivity and diversity can help teams grow together. In addition, we discussed vulnerability in leadership, how transparency and collaboration are essential for growth, and why representation truly matters to people and brands.
Below are some of the brand takeaways from the session.
Moët Hennessy brand takeaways
As I was traveling home, a few key takeaways stood out:
Emma: empowered decision-making, transparency, and collaboration are essential for brands to thrive and grow.
Tiara: people want to be their whole selves; teams need to know each other personally, understand different backgrounds, and be sensitive and cognizant of work and personal lives.
Anu: shifting tone internally, from more formal and stoic, authoritarian and top down to more inviting, inspiring and compassionate, more vulnerability in leadership; externally translates to corporate programs meant to empower and mentor more women and people of color in our industry.
Aygline: culture translates into marketing programs and events marketing because consumers are diverse, and representation matters.
Amplifying the old maxim that "culture eats strategy for breakfast," this conference clarified the connection between people and purpose as drivers of business.
Thank you to Brand Innovators for hosting the Marketing Innovation event during Formula 1 in Miami and to Moët Hennessy for inviting BERA to moderate their panel discussion.
If you couldn't attend the event in person and would like to understand better how your brand is currently positioned, please request a free brand assessment. We'd love to show you how much people love your brand.
Brand Innovators
‍Established in 2011, the Brand Innovators community includes over 25,000 senior brand marketers from Fortune 500 and other leading brands from coast-to-coast, making it the largest professional network of its kind. The Brand Innovators Advisory Board and Professional Councils include some of the most innovative brand marketers or change agents in today's marketing and media industries.
Moët Hennessy
LVMH Moët Hennessy Louis Vuitton, commonly known as LVMH, is a French holding multinational corporation and conglomerate specializing in luxury goods, headquartered in Paris.
Scott Turner, Chief Marketing Officer, BERA
A methodical optimist who believes that great marketing is a potent combination of persuasion and math, Scott Turner is an enterprise software growth marketing leader. Scott leads marketing teams to rapidly develop and execute aggressive brand and demand generation goals. He has international (the US and Israel) board-facing experience reporting progress on brand awareness, pipeline growth, global expansion, new product, brand launches, M&A integration, team staffing and training, go-to-market plans, and budgets.