What do Burt's Bees, PayPal, Crayola, AAA, Intel, and Amazon have in common? They put themselves out there in bold and engaging ways and let their customers know exactly who they are and what they represent. 
They look out for their consumers' interests and care deeply about customer experiences. They own it all–the good, the bad, and the ugly, and they do it honestly and with integrity. They hold themselves accountable. They embody authenticity. The product delivers on what is advertised – it's that simple. They're real.
These factors determine how authentic brands are perceived: 
Reliable: Consumers rate brands as authentic when they "deliver on promises" and are "high quality.
Respectful: These brands "treat customers well" and "protect customer data and privacy" – a key concern for consumers across markets.
Real: Brands that rate high on this driver "communicate honestly" and "act with integrity" regardless of the outcome.

Tim Crow of sports marketing firm Synergy wrote, "Like all smart companies, Nike realized that it needs to stand for something within a culture. In this instance, it's on the side of athletes, young black kids, civil rights proponents, and people against Donald Trump." 
Yet, no matter which side of the fence you perched on, it was undeniably raw and authentic. Nike and Colin Kaepernick demonstrated their values by having these powerful conversations, and remarkably, once the dust settled, both came out victorious – all because they were real–to who they are, what they believe, and how they conducted themselves. 
Now, no one is saying being real and authentic is easy or that there won't be choppy waters ahead, but brand integrity outlives CMOs. Companies in it for the long haul should consider their realness if they want to secure long-term success with employees, consumers, and customers alike. 
Consumers want authenticity and realness
It's not just brands that seek to be authentic and real. Consumers want authenticity; they want to know that a brand truly cares about their wants and needs. Brands today are eager to create real, emotional-based connections that don't just resonate with buyers but leave them with a lasting impression of brand loyalty and love. 
Dove's 2004 Campaign Real Beauty, which used real women instead of models, was named the Best U.S. Campaign of the Past 20 Years and won the hearts of consumers worldwide. It felt real to the women to finally see themselves portrayed in print. 
Benefits of building an authentic brand:  
Gives your brand a voice: consumers are looking for a brand that resonates with them in a sea of choices. You connect deeper with your audience by sharing an authentic brand opinion or value. 
Builds community and purpose: consumers gravitate towards brands that speak their language authentically and genuinely and want to connect with you in a heartfelt and genuine way. 
Stand apart from the crowd: wearing your heart on your sleeve is a simple but effective way to differentiate yourself from your competitors and is a fantastic way to generate consumer loyalty and advocacy. 
So how does a brand create a real emotional experience? Being real can look different for every brand, authentic and transparent pillars define being real. Let's explore. 
What is brand authenticity?
Expressing your brand as real and authentic can be a powerful statement that consumers use their wallets like votes. When you focus on being real, you lay the foundation for a long-lasting relationship. 
Consumers can immediately tell if a brand is authentic in the social media era. When building consumers' trust, brand authenticity is the backbone. When consumers feel brands are genuine and honest, they are more likely to spend time and money with your brand. 
Being real may look like this: 
Speaking your truth: when brands are truthful, they demonstrate your trustworthiness and be perceived as real. 
Aligning words and actions: if you offer a limited-time discount, did it end on time? If you pledged a percentage of profit to charity, did you donate? 
Admitting when you are wrong: brands aren't omnipotent, and handling conflict or consumer unrest can strengthen your relationship when taken with authenticity. 
Making statements and decisions consciously: are you considering your consumer's best interests, or are you saying you are to increase revenue? 
Being courageous: taking a stand for something you believe in can be incredibly powerful and real. 
How your brand expresses itself emotionally, will determine how consumers perceive it. To win in today's competitive world, where commoditization stands at every street corner, a brand must define its differentiation to become meaningful and unique.  
As a recent McKinsey report found:
Take Burt's Bees as another example. Their mission is bold and heartfelt: "What you put on your body should be made from the best nature has to offer." The philosophy is real because it's grounded in Burt's craft as a beekeeper, with honey the product. As a result, we see Burt's on the BERA Love curve as a strong brand love among consumers.
The founding story is romantic and charming and engages consumers through authentic and real stories. Burt's Bees uses Instagram to share a curious blend of images and videos. Retelling their founder's quest for a simple holistic life is a central part of the Burt's Bees brand they created an immersive 360-degree tour of Burt's original cabin in the Maine countryside.
How to define and measure an authentic brand
Given the role of brand purpose in driving business value, the all-important question becomes how do you define and measure it? 
BERA teamed up with world-renowned marketing expert Jim Stengel to create a brand that resonates with today's consumers and feels authentic and real (alongside 60+ BERA attributes). As the former global CMO of Procter & Gamble and author of the book "Grow: How Ideals Power Growth and Profit at the World's Greatest Companies," Jim has dedicated his career to understanding and championing brand purpose.  
These brands keep it real and rank highly on the BERA purpose score: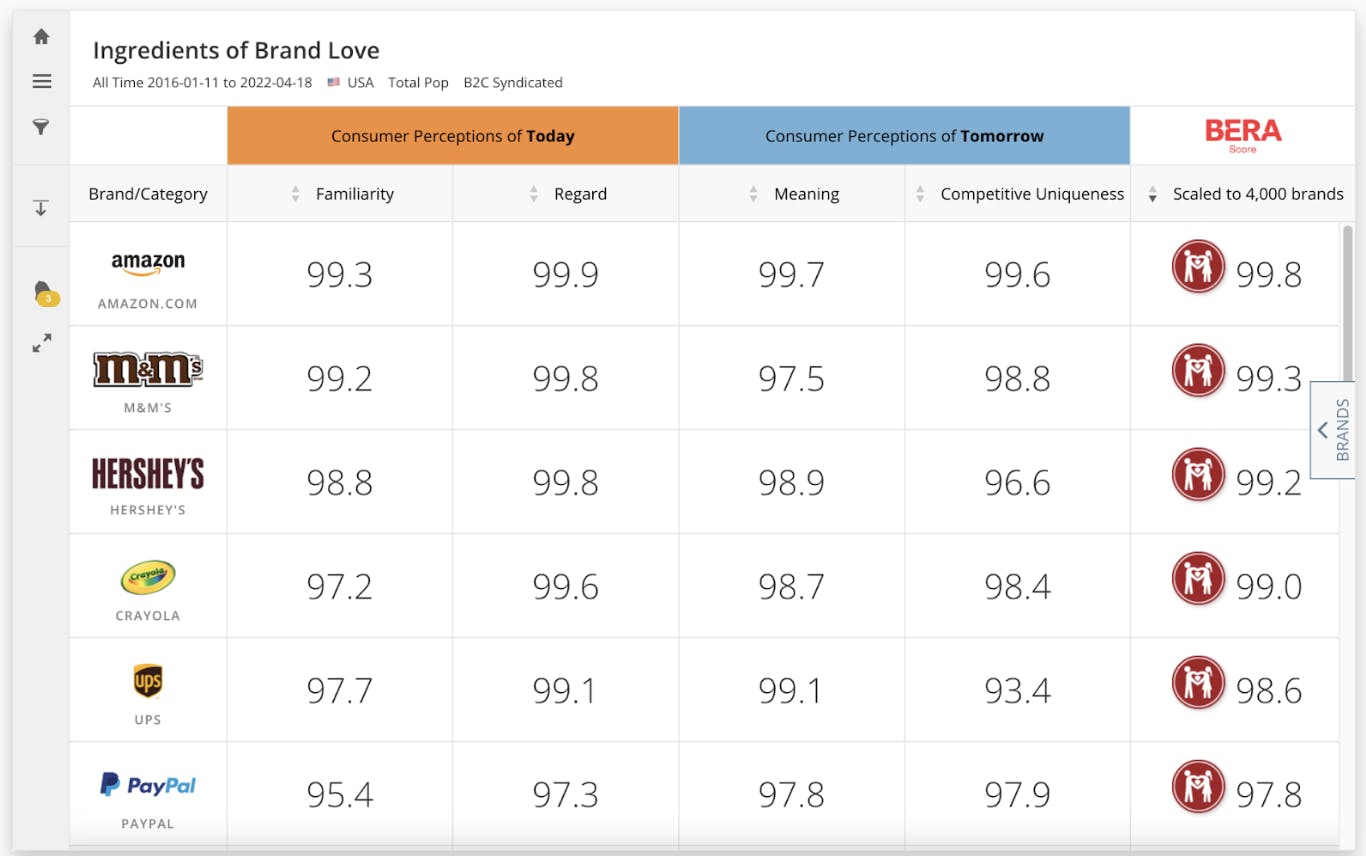 Request your personal brand assessment.
BERA and the Jim Stengel Company surveyed a nationally representative sample of 1,536 consumers on 48 brands. Using BERA's category agnostic framework for measuring brands removes traditional biases of asking brands. The 48 brands represented 48 different sectors ranging from consumer packaged goods to hotels, banks, and celebrities.
With the proper measurement of this critical element of brand positioning firmly in place, leading marketers can differentiate their brands through purpose, outsmart their competition, and drive tangible business value. 
Consider blending innovative and tried-and-tested ways to engage your brand to become more approachable and authentic. For example, having a mission statement on your website and hoping it boosts sales doesn't cut it; consumers want to see and hear your story and engage in conversations about shared beliefs. 
You are encouraged to share stories, anecdotes, customer successes, and other facets of your brand that are authentic and trustworthy. 
Here are some quick takeaways from brands perceived to be real:   
Be consistent with your brand values and mission  
Share your brand values and mission statement that feels authentic and in alignment with your brand. Be consistent; consumers want to know that you can walk and you mean what you say. When you consistently communicate your values authentically, consumers will view your brand as unique, reliable, and dependable. 
Build genuine relationships with customers and prospects 
The backbone of all genuine relationships is trust and communication. Therefore, brands should seek ways to engage their customers and prospects and listen. We often think about what we want to say in marketing, but listening to our customers and prospects allows for honest and transparent communication to flow freely.  
Be approachable and initiate real conversations  
Understanding what platforms your audience prefers to use will illuminate different types of communication and create a more authentic experience. For example, Tesla fans share their opinions on Reddit and Twitter; if you were Tesla, wouldn't you want to be there? Likewise, Nestle shares their favorite (and fans submitted) recipes on Pinterest. 
Clurra Goodwin, Sr. Director of Content Marketing at BERA
Clurra Goodwin is a marketing leader with over 12 years of experience developing messaging architecture, brand guidelines, and thought-leadership materials to define world-class content, webinars, and events that drive demand through meaningful conversation. She has led content marketing and demand gen teams at AI and SaaS companies including AlphaSense, Vendavo, and Mitratech.